Have you ever heard of Jim Corbett National Park? Well, yes, today we are going to explore Jim Corbett. Are you excited? People love to go to extraordinary places like wildlife sanctuaries. And Jim Corbett National Park is one of them.
Do you know why Jim Corbett National Park is so famous? Of course, it is famous for its beautiful location. That's the Nainital district of Uttrakhand. People who go there love it for the scenic beauty it presents.
Basically, it is naturally praised for having Bengal tigers and also for being abundant in woods, vegetation, and biodiversity.
Other animals besides Bengal tigers include langurs, sloth bears, Indian grey mongooses, jungle cats, elephants, deer, nilgai, and many more.
These animals have their own zone called Dhikala, where they can roam freely.
Many other bird species can be found there, including great hornbills, cormorants, ruddy shelduck, tawny fish owls, river lapwings, and black francolins.
This location is not only great for animal lovers, but also for bird watchers. Every nature enthusiast should visit Jim Corbett National Park to see the magnificent Bengal tigers and more than 500 different plant and animal species.
You have heard a lot from me above, now you should understand why this Jim Corbett National Park is famous as a hot ecotourism destination.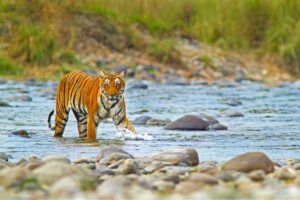 I'm pretty sure Jim Corbett National Park has influenced you up to this point. So are you planning to take a trip to Jim Corbett National Park? But you are totally confused about what time will be good to visit there.
Contact us for more information: +91 9910511523
Don't panic! I'm here to help you with this problem. Let me tell you all about the best time to visit Jim Corbett National Park.
When Is the Best Time to Visit Jim Corbett National Park?
Jim Corbett National Park has three different seasons: winter (November to February), summer (March to June), and monsoon (July to October).
The Best Time to Visit Jim Corbett National Park is after mid-November and before the end of June. That is when you may enjoy the entire park's thrills.
If you're planning a trip to Jim Corbett National Park and wondering when you should go, you should be aware of the park's various zones.
I'm curious how we can decide to go there given our knowledge of zones. Wait and think. Do you know there's an area called Jhirna that is open throughout the year?
You must understand why I say that about zones. Similarly, there's another region named Sitabani that will also be open all the time. It's because these places are completely dry.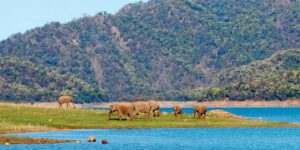 However, the Bijarani zone, which is considered the heart of animal conservation operations, is open beginning in mid-November, just as winter begins.
The greatest zone of all is the Dhikala zone, which has the most tigers and cubs freely wandering about, although it is only accessible from mid-November to mid-June each year.
From November to June, there is also a Durga Devi zone. They are maintained close together since the connecting roads are totally swept away during the wet season.
This pleasant climate makes it an ideal destination, but overall the best timing is in the winter. During that time, you can fully explore the sanctuary and have joy.
It doesn't mean there's an issue with summers; you can visit here in the heat too.
Book Your Jim Corbett National Park Tour Package: +91 9910511523
Warm Summer Days
Temperatures can reach 40 degrees Celsius here, but due to the abundance of trees and plants, the area is normally very pleasant. Most of the time, humidity levels stay low. Summers aren't always chilly, but they're still pleasant enough to spend time outside.
Flashy Rainy Days
The rain brings out the flora in Jim Corbett National Park, creating a beautiful scene. Every corner, every plant, and wildlife is humming and joyful.
During this season, several zones are closed because the rain washes out the roads that connect them, making them unsafe.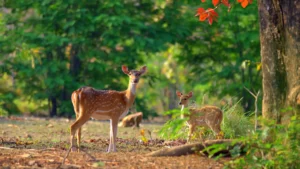 However, the amazing prices and discounts are compelling reasons to visit here during the monsoon season. Even if it is not the greatest time to travel, you may still make the trip worthwhile.
Book Your Jim Corbett National Park Tour Package Now: +91 9910511523
Snowy Cold Days
The park is even more attractive in the winter after the heavy rains work on the plants here. The ambiance is nice, and all of the animals and birds freely traverse the park.
Not only this park, but winter is typically the Best Time to Visit Jim Corbett National Park and also visit Uttarakhand as a whole.
Have you explored the beauty of the park? Don't only get busy in the park; you must also visit Dhikuli.
Go to Corbett Falls for a relaxed lunch or snack. To get the most out of this park, go on a vehicle safari.
Other activities available here include elephant rides, river rafting, visiting the Corbett Museum, and visiting the Garjiya Temple.
There's also a shooting block area named Birjani, and a gorgeous spot on the banks of the Kosi River is a famous tourist attraction.
Final Words
You should not go to Jim Corbett National Park with insufficient knowledge now that you know when you should go and pay it a visit. You must use travel-expert agencies if you want to completely enjoy this vacation.
There are several travel agencies to assist you with your vacation, but Snaptours is the Best travel agency in Faridabad. They will make your journey more enjoyable by providing you with a comfortable hotel, tasty meals, and exciting sightseeing.
Contact us : +91 9910511523