Would you like to take a low-cost tiger safari in India?
It's possible that you did research on it as well and found out that nothing is free.
The Sariska Tiger Reserve, known for its sizable tiger population, may cost you many pounds for the safari packages. Be at ease; we are here to assist you more skillfully.
In Rajasthan's Alwar region is the Sariska Tiger Sanctuary, another well-known tiger reserve. In this region, it's possible to see tigers. This park spans an area of about 800 square kilometers and is made up of grassland, rocky hills, scrub, thorny desert woodlands, and deciduous forests.
How to Reach Sariska National Park?
The Alwar region of the Indian state of Rajasthan is where Sariska National Park is situated. Unfortunately, getting to this park by plane or train is difficult, so you must drive. Alwar Junction is the station that is closest to the park. From Delhi, it takes about 3–4 hours, and from Jaipur, about 2 hours.
If you arrive by train at Alwar Junction, you may grab a taxi from the station and reach Sariska National Park in just one hour.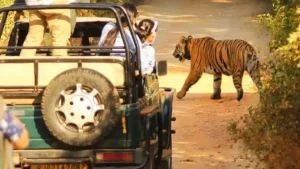 Distance of the park from the major cities is as follows:
The distance is 240 kilometers from Ajmer
The distance is 200 kilometers from Delhi.
200 kilometers separate you from Agra.
Just 110 kilometers separate you from Jaipur.
Best Time to Visit Sariska National Park
The best time to visit Sariska National Park is between the months of October to May. The months of March through May are ideal for tiger sightings. Because the forest is not very large, this national park is great for seeing Tigers.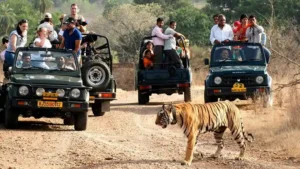 Places to Visit Near Sariska National Park
If you're sick of seeing things at Sariska National Park, here's a fresh viewpoint for you. Yes, there are many undiscovered attractions and places to visit near Sariska National Park. You might need to extend your holiday by a few extra days to see them all. Before you can claim to have visited Sariska at its best, you must first see its interesting forts, ancient temples, deserted settlements, and the history associated with these places. While spiritually inclined people will find much to enjoy in the temples in and around Sariska, there is also much to do for those who want adventure. We promise that your long drives will be breathtakingly gorgeous and something you simply must experience!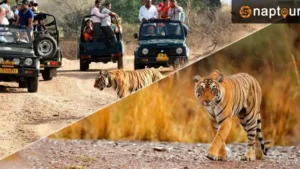 Rajgarh
The Alwari kings' former capital used to be here. The surroundings are excellent, offering views of a breathtaking valley and verdant wheat fields. Raja Pratap Singh built the fort on a hilltop there called Rajgarh Fort in the middle of the 18th century.
However, the capital was moved to Alwar after Raja Pratap Singh seized power in Bala Qila in 1775. (in Alwar). The beautiful Sheesh Mahal and several frescoed walls of the fort, which purportedly served as a vacation residence, once stood there. Rajgarh town, which is located at the bottom of the hill, is currently dominated by this abandoned area.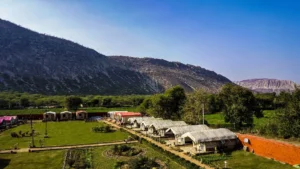 There was a struggle when the father of eminent Urdu poet Mirza Ghalib, who has a monument dedicated after him in Rajgarh, died. In the Rajgarh tehsil, a little hamlet by the name of Rajorgarh is also home to what is claimed to be a former kingdom from the 10th century AD. The Sariska Tiger Reserve is surrounded by the lovely Tehla Lake, a popular destination for bird watchers.
Two temples are close by, and Rajgarh is prominently located on the main railroad line that connects Delhi and Jaipur.
Kesroli Hill Fort
Kesroli Hill Fort, which is close to Alwar, was built by the Yaduvanshi Rajputs in the fourteenth century. They are also known as Khanzadas and were formerly Krishna devotees who converted to Islam. The magnificent arched verandas and never-ending ramparts of the Kesroli Hill Fort are some of its greatest attractions. It is now known for being one of India's oldest heritage hotels and has undergone a stylish boutique hotel makeover.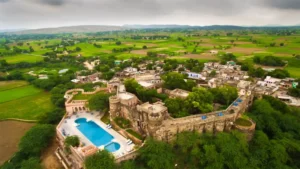 This magnificent fort, which was constructed on a sizable rock, is encircled by a strong wall with watchtowers for the soldiers. The inside of the main fort is mostly composed of granite and is supported by several pillars.
Neelkanth Mahadev Mandir
Described by Neelkanth Temple as "paradise on earth," This magnificent location is the oldest tourist destination in the region that encircles Sariska National Park. It is a collection of more than 300 Jain and Hindu temples.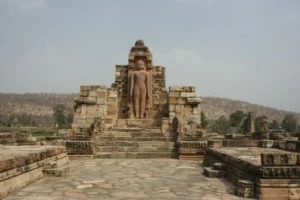 This location lies above the hills close to Rajgarh village and is close to the Sariska Tiger Sanctuary buffer zone. For those who love the outdoors, this is the ideal location. Visitors can also enjoy themselves at a small Baori that is close to the temple.
Narayani Mata Mandir
On the way to Neelkanth Mahadev, there is a well-known place called Narayani Mata Temple. The only Sain Samaj temple in India, according to reports, is the highly esteemed Narayani Mata Temple. According to mythology and folklore, it first appeared in the 11th century, the year of the first sati (fire immolation).
The entry to this temple is a draw in and of itself. After leaving the serene Tehla Lake surroundings, the Narayani Mata Temple may be reached on the right side of the fort-like entryway. On the opposite side of the temple, hordes of monkeys wait as locals feed them, and a little water source nearby has a legend associated with it. Additionally, spring water is revered as sacred water.
Additionally, this temple used to host a sizable fair back in the 1990s. It dates back to the period before sati was outlawed in the nation. It is referred to as the most well-known local attraction close to the Sariska tiger reserve.
Sariska National Park Safari Timings
From May to October, there are three Sariska National Park Safari times every day. These safaris operate twice a day, once in the morning at around 6 am and again in the afternoon at about 3:30 pm. These excursions last around three hours each. Therefore, you should allow enough time in your day for a safari if you wish to view a tiger.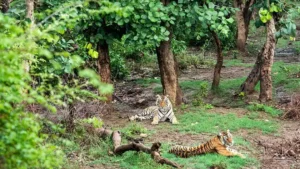 The timing of the safari may also change depending on the seasonal conditions. The Sariska National Park has entry only for authorized vehicles. All cars inside the park must travel a specific path and must exit the area at 6:30 p.m. every evening.
Things to do in Sariska National Park
The historical view of the forts, palaces, and temples is available.
Have fun on the jeep safari.
Additionally, you can go to Pandupole, a waterfall located inside Sariska National Park.
Take pleasure in lake boating.
You can stay at a wildlife lodge if you wish to be near nature and gorgeous scenery.
A fantastic site close to the tiger reserve is Bhangarh.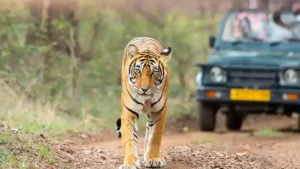 There are many more things to do in Sariska National Park which will make your trip more memorable.
Best Places to stay near Sariska National Park
Sariska offers some fantastic lodging options, whether you are planning a quick break or a leisure trip. Here are some of the top resorts close to Sariska that you must visit if you want to have a nice time away from the hustle and bustle of the city.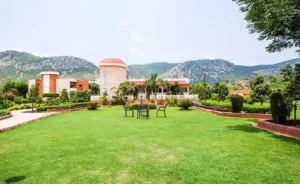 Some of the best places to stay near Sariska National Park are Little Affair Sariska, Chalet by Rampur Estate, Sariska Safari Lodge, Sariska Manor Utsav Camp, and many more.
Conclusion
The above blog has given you complete details about the Sariska National Park. If you want to visit this place and also want to explore the nearby sightings, Book your Sariska Tour packages from Delhi with Snaptours.They are experts in making relevant tour plans. So, get yours and explore the wildlife.
Book Sariska Tour packages: +91 9910511523